The latest publication titled Managed Security Services Market Size, Share, Trends, Analysis and Forecasts by Region, Organization Size, Vertical, and Segment Forecast 2022-2026 has been added to the report store by GlobalData plc. The report estimated the managed security services market size to reach USD 51.5 billion in 2021. The rising severity and surging number of cyberattacks backed by the cost efficiency of managed security services are some of the prominent factors propelling the managed security services market to garner a CAGR of over 11% during 2022-2026.
The managed security services provide all-in-one solutions when it comes to organizational security. MSSs not only provide protection against network breaches but also offer security against ransomware, password hacks, and virus attacks to organizations of all sizes. Furthermore, MSSs are further likely to gain traction amongst smaller companies over the forecast period with substantial reductions in costs and improved efficiency.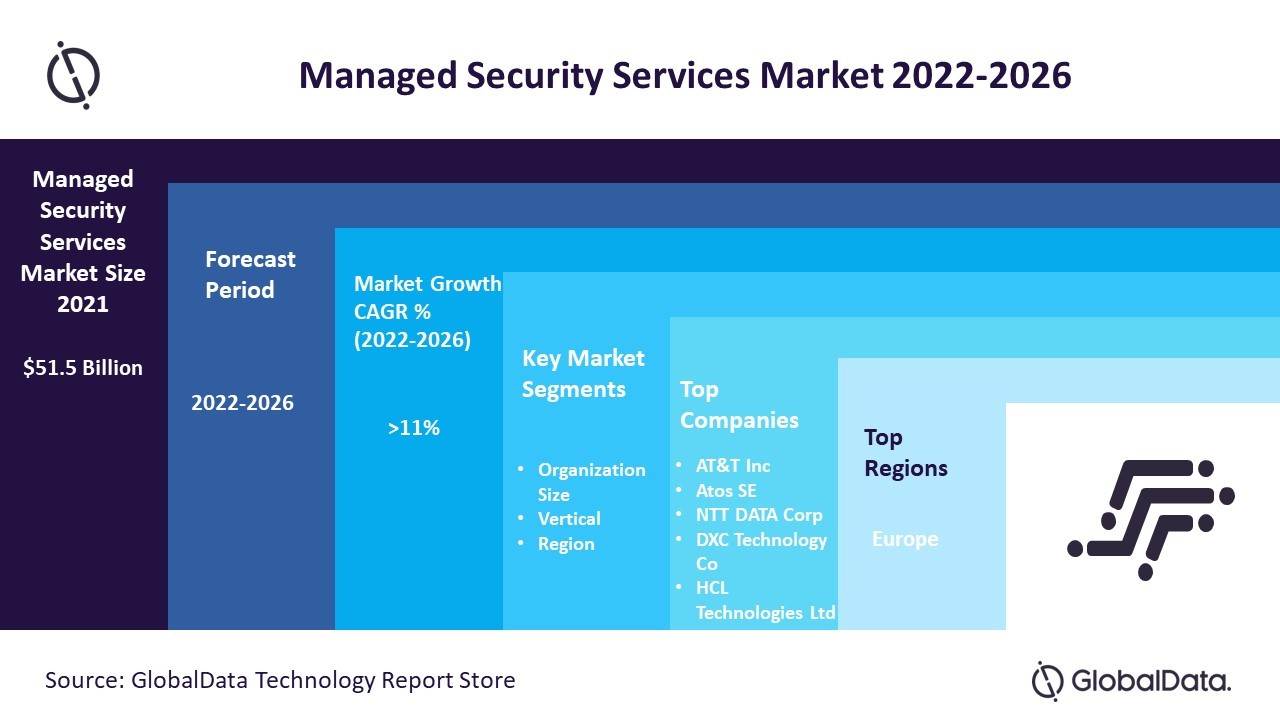 For more insights on the key market dynamics, Read Sample PDF
Managed Security Services Market Segmentation
By Organization Size
Very Large (5000+): The very large organization size held the largest managed security services market share in 2021. The segment is likely to continue its dominance in the market throughout the forecast period owing to the surge in the adoption of MSSs in large-scale companies.
Large (1001-4999)
Medium (251-1000)
Small (51-250)
Micro (Less than 50)
By Vertical
BFSI: The BFSI segment emerged as the largest revenue-generating segment of managed security services market in 2021. The rising need to protect consumers' personal information and financial details against password hacks and ransomware has been influential in the vertical's growth during the forecast period.
Manufacturing
Information Technology
Retail
Energy
Government
Transport & Logistics
Others
Regional Outlook
Europe: Europe's managed security services market value was the highest in 2021, capturing over 20% of the overall market size. The regional demand was led by the rapid adoption of managed security services solutions in countries such as the UK, Germany, and France among others.
North America
South & Central America
Asia Pacific
Middle East & Africa
For more segment-wise and regional opportunities, download a free sample report
Managed Security Services Market Vendor Landscape
The managed security services industry is moderately fragmented. However, with the growth of start-ups and new venture launches the competition is gradually intensifying. Key players in the managed security services market include AT&T Inc, Atos SE, Capgemini SE, Wipro Ltd, and Tata Communications Ltd among others. Mergers and acquisitions form a major part of the managed security services competitive environment since many of the vendors collaborate to provide advanced and secure MSS solutions to clients in competitive environment.
Top Managed Security Services Market Players
AT&T Inc: In March 2021, the company announced the expansion of its portfolio of MSSs through its alliance with Fortinet to make Secure Access Service Edge a reality for enterprises. AT & T has also launched a managed endpoint security solution through its alliance with SentinelOne.
Atos SE: The company provides business consulting, technology integration, and other IT services. They offer payment transactions, consulting and technology services, systems integration, and managed services.
NTT DATA Corp: In October 2022, Fadata and NTT DATA joined forces, combining operational capacity and knowledge, and expertise in the insurance industry to offer a streamlined single solution for digital transformation.
DXC Technology Co: In February 2022, DXC Technology inked a multi-year managed services agreement with the University of Newcastle to manage Oracle's PeopleSoft Campus Solutions application and infrastructure.
HCL Technologies Ltd: The company offers a wide range of solutions in IT infrastructure management services, digital process operations, cloud-native services, cybersecurity services, industry software services, and engineering services.
Verizon Communications Inc
Capgemini SE
Orange SA
Wipro Ltd
For more insights on the vendor offerings and strategic moves, Get Sample PDF
About GlobalData
GlobalData is a leading provider of data, analytics, and insights on the world's largest industries. As a leading information services company, thousands of clients rely on GlobalData for trusted, timely, and actionable intelligence. Our mission is to help our clientele ranging from professionals within corporations, financial institutions, professional services, and government agencies to decode the future and profit from faster, more informed decisions. Continuously enriching 50+ terabytes of unique data and leveraging the collective expertise of over 2,000 in-house industry analysts, data scientists, and journalists, as well as a global community of industry professionals, we aim to provide decision-makers with timely, actionable insights.