9.7% CAGR to Get Recorded in B2C eCommerce Market with Highest Revenue from Online Payment, Confirms GlobalData Plc
The Business to Consumer (B2C) eCommerce Market Forecast by Region, Payment Type, and Segment, 2021-2026 report has been added to the report store by GlobalData Plc. The analysts have examined various factors triggering the B2C eCommerce Market to Garner a CAGR of 9.7% during 2021-2026. Some of the most prominent factors influencing the B2C eCommerce market growth positively are the emergence of Big Data and AI, the popularization of electronic payments, innovative last-mile delivery solutions, horizontal and technological integration, and improved connectivity with an increase in Internet penetration.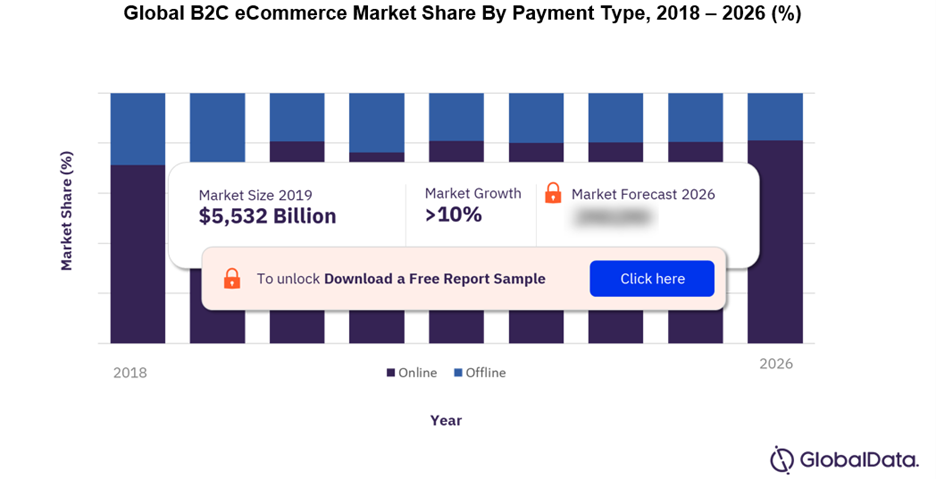 Download a Sample PDF to know more about market dynamics.
Revenue-generating B2C eCommerce Market Segment Highlights
By Payment type
Online: Includes payment instruments such as Android Pay/Google Pay, Apple Pay, bank transfer, credit or charge card, debit card, PayPal, Alipay, and Tenpay. The online payment segment held the largest B2C eCommerce market share and revenue in 2021. Growing internet penetration across the globe makes it easier for customers to opt for online payment options. Moreover, mobile phone applications that aid in online payment further ease the payment process. In addition to internet penetration supporting online payments, eCommerce platforms provide additional benefits and offer for customers that opt to pay online.
Offline
Regional Deep Dive
Asia Pacific: Factors influencing the Asia Pacific B2C eCommerce market growth are a considerably large population coupled with increasing internet penetration and horizontal integration with rising mergers & acquisitions by major companies. Key countries and the market sizes for B2C eCommerce covered in this report from the Asia Pacific region include India, China, Japan, Australia, Hong Kong, Indonesia, New Zealand, Philippines, Singapore, South Korea, Taiwan, Thailand, Vietnam, Malaysia, and Rest of Asia Pacific.
North America
Europe
South & Central America
Middle East & Africa
Grab your Sample Report Copy to access Segment-wise Revenue and Regional Opportunities
Top B2C eCommerce Market Players
Alibaba Group Holding Ltd: The company provides fundamental technology infrastructure services to merchants, brands, retailers, and businesses to market, sell and operate using the Internet.
com Inc: The company provides products such as apparel, automotive and industrial items, beauty and health products, electronics, groceries, books, games, jewelry, kids and baby products, movies, music, sports goods, toys, tools, and other related products. The company also provides related support services, including home delivery and shipping, cloud web hosting, and other web-related services.
Apple Inc.: In February 2021, Apple Inc announced a partnership with Target Corp to offer a new shopping experience both online and at select stores, which will expand its footprint in select Target stores.
eBay Inc:
com Inc
Pinduoduo Inc
Rakuten Group Inc
Shopify Inc
Walmart Inc
Zalando SE
For more information on other contributing vendors, Read this Sample PDF copy
Reasons to Buy
This Global Outlook Report provides a comprehensive examination of the digital health value chain and business models. It helps executives fully understand the ecosystem, market dynamics, latest developments, and value chain.
It helps telecom decision-makers determine key digital health positioning strategies, formulate effective product development plans, and optimize return on investments.
Four case studies illustrate the findings of the report, providing insights into different telco digital health value propositions across the world, including services, monetization approaches and partnerships. This will help telecom executives craft adapted digital health strategies to unlock new revenue streams.
The report discusses concrete opportunities in the digital health market, providing several actionable recommendations for digital health ecosystem participants, including telecom service providers.
Related Reports:
Digital Health – Telco B2B and B2C Strategies and Approaches to Monetization
About GlobalData
GlobalData is a leading provider of data, analytics, and insights on the world's largest industries. As a leading information services company, thousands of clients rely on GlobalData for trusted, timely, and actionable intelligence. Our mission is to help our clientele ranging from professionals within corporations, financial institutions, professional services, and government agencies to decode the future and profit from faster, more informed decisions. Continuously enriching 50+ terabytes of unique data and leveraging the collective expertise of over 2,000 in-house industry analysts, data scientists, and journalists, as well as a global community of industry professionals, we aim to provide decision-makers with timely, actionable insights.