Oct 8, 2020 9:00 AM ET
iCrowd Newswire – Oct 8, 2020
Zion Market Research has published a new report titled "Global Ion implantation machine by product (High Current Implanters, High Energy Implanters, Medium Current Implanters and Others (Cell Doping, and Implanters For Photovoltaic)) by Application (Semiconductors, Metal Finishing and Others-Material Science Research) and by Region: Global Industry Perspective, Comprehensive Analysis and Forecast, 2018 – 2025" According to the report, the global ion implanters machine market was valued at around USD 1,600 million in 2018 and is expected to reach over USD 3,000 million by 2025, growing at a CAGR of around 8% during the forecast period from 2019 to 2025.
Doped semiconductors are used in electronic equipments. The growth of electronic market is unmatched in recent years. Rise in demand for smartphones, laptops and other electronic gadgets expand the demand for electronic devices. This is driving demand for ion implantation machines. Upcoming technologies such as artificial intelligence, voice recognition, etc. are expected to contribute towards growth of electronic devices and in turn ion implanters.
Get Access to the FREE sample report @ https://www.zionmarketresearch.com/sample/ion-implantation-machine-market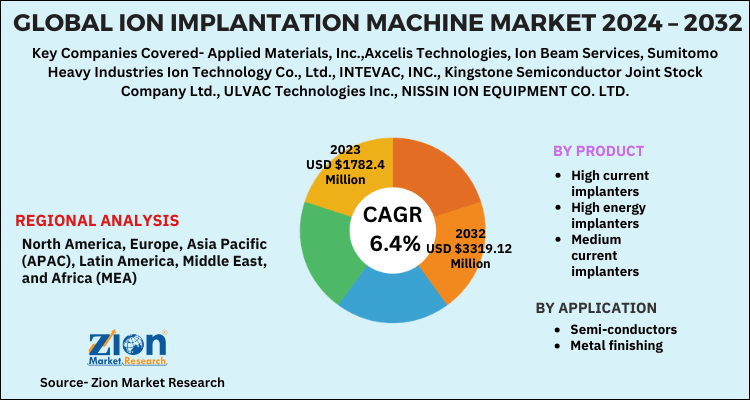 Ion implantation is executed in low temperature. In this process the ions of one element are accelerated into a substrate, thereby changing its physical, electrical or chemical properties. The dopants are injected vertically into a substrate. The electronic components can be miniaturized by ion implantation technique. Miniaturization of electronic devices is driving manufacturers to employ thinner and complex circuit boards. This has triggered the demand of ion implantation machines and thereby the rise in demand for ion implantation machines. A nanometer level electrical circuit and memory chips are used in computer microprocessors. This leads to rise in demand for the ion implantation machine to enhance in near future resulting in overall growth of ion implantation machine market during the forecast period. Despite of the advantages high initial investment owing to high cost of these ion implantation machines is expected to hamper growth of this industry to some extent. Since the ion implantation machine market is driven by technological innovation which may include research, technology or invention that becomes obsolete can also pose threat for this industry over the forecast period.
High current ion implantation segment dominated the ion implantation machine market with largest share in 2018. High current ion implantation machines are extensively used in fabrication process of CMOS integrated circuit. CMOS technology is one of the popular technologies in computer chip design industry and is broadly used to form integrated circuit in numerous applications. The demand for high current ion implanters is anticipated to rise during the forecast period owing to their extensive use in the semiconductor industry.
The silicon wafer size has been increased from 100mm to 300mm with relatively small number of ionization equipments required. The wafer size is improved as of 25% to 50%. Manufacturing wafers with a large diameter reduces the cost of manufacturing semiconductor ICs. Semiconductor is one of the leading application markets for ion implantation machines. It accounted for over one third market share in 2018. The demand for ion implantation machines has been preceded by the use of new fabrication processes in semiconductors. Fabrication of finFETs and 3D-NAND are trending for ion implantation machine market.
The global ion implantation machine market was dominated by Asia Pacific owing huge demand for semiconductors and other application industries in the region. Asia Pacific accounted for over 40% share in 2018. It is also expected to experience highest CAGR over the forecast period owing huge growth prospects in the years to come. Huge demand for electronic gadgets in China, India S Korea and Japan are expected to trigger the demand for electronics industry and in turn ion implantation machines. Asia Pacific is followed by North America and Europe respectively. Asia Pacific and North America regions are accountant for specification for growth in market.
Manufacturers are using ion implantation technology to develop image sensors due to higher growth rate. Major challenge for extremely sensitive image sensors is metal contamination. The use of plasma shower using radio frequency overcame this challenge. The key players operating in the global ion implantation machine market include Applied Materials, Inc.,Axcelis Technologies, Ion Beam Services, Sumitomo Heavy Industries Ion Technology Co., Ltd., INTEVAC, INC., Kingstone Semiconductor Joint Stock Company Ltd., ULVAC Technologies Inc., NISSIN ION EQUIPMENT CO. LTD., High Voltage Engineering Europa B.V., idonus sarl. Applied Materials, Inc. has introduced implant to enhance the productivity. This comprehensive service provided 3%-5% increase in high current, medium current and high energy VIISta implanters.
This report segments the Ion implantation machine as follows:
Global Ion Implantation Machine Market Analysis by Product-
High current implanters
High energy implanters
Medium current implanters
Others (cell doping, implanters for photovoltaic,etc)
Global Ion Implantation Machine Market Analysis by Application-
Semi-conductors
Metal finishing
Others (material science research)
Global Ion Implantation Machine Market Analysis by Region-
North America
Europe
Asia Pacific
Latin America
Middle East and Africa
To view TOC of this report is available upon request @ https://www.zionmarketresearch.com/toc/ion-implantation-machine-market
Contact Information:
Zion Market Research
244 Fifth Avenue, Suite N202
New York, 10001, United States
Tel: +49-322 210 92714
USA/Canada Toll-Free No.1-855-465-4651
Email: sales@zionmarketresearch.com
Website: https://www.zionmarketresearch.com
---
Keywords: Ion Implantation Machine Market